Many day trips lie within easy access from
Tokyo
for travelers using this modern city as a home base. Thanks to Tokyo's excellent public transport system, as well as Japan's superb railways, it's easier than in many other countries to travel relatively large distances in a short time and with a minimum of fuss. Jump on a train, and you'll have access to an endless number of fun day trips, from major theme parks to historic castles and temples, beautiful national parks, and even majestic
Mount Fuji
.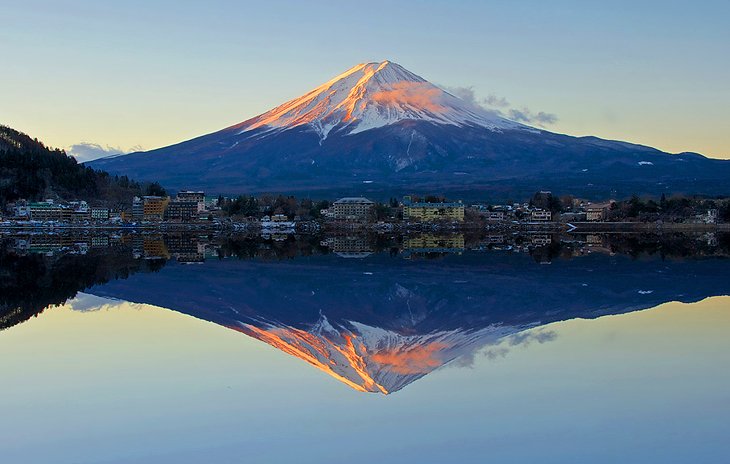 Japan's most famous landmark, Mount Fuji lies 130 kilometers southwest of Central Tokyo and is a full day's outing if you are only traveling to the base of the mountain, or an overnight stop if you're planning to climb it. Japan's highest and most beautiful mountain, it's also the country's most celebrated peak, included since early times in poetry and paintings. On clear days it is visible from as far away as Tokyo. In the Fuji-Hakone-Izu National Park, the volcanic Mount Fuji sees more than a million people climb it during July and August as an almost religious act, the culmination of which is the observation of sunrise from the summit. The climb can be arduous and can take up to eight hours each way, so be prepared for plenty of walking and take along warm clothing. Alternatively, a number of paths are available that circle the lower sections of the mountain, a journey that can still take many hours. Simply viewing the mountain from a distance is also rewarding.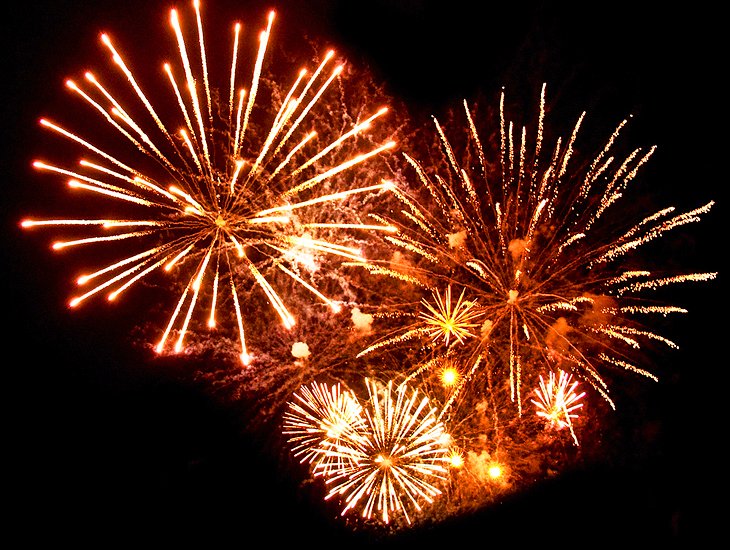 Drawing huge crowds ever since it opened in 1983, Tokyo Disneyland (Tōkyō Dizunīrando) contains many of the most popular Disney attractions and restaurants known to theme park fans. What makes it a truly memorable experience for westerners, however, are the many unique attractions included here, such as Pinocchio's Daring Journey, The Eternal Seas (a deep sea film adventure), and Meet the World (a presentation of Japan's rich history), as well as the World Bazaar, a unique twist to the Main Streets of other Disney parks that is completely covered. In addition, up to 300 entertainers appear daily in stage shows, musical performances, and parades, along with Mickey and numerous other Disney characters. Tokyo Disneyland also boasts more than 27 places to eat ranging from snack bars to elaborate gourmet restaurants.
Address: 1-1 Maihama, Urayasu, Chiba Prefecture 279-0031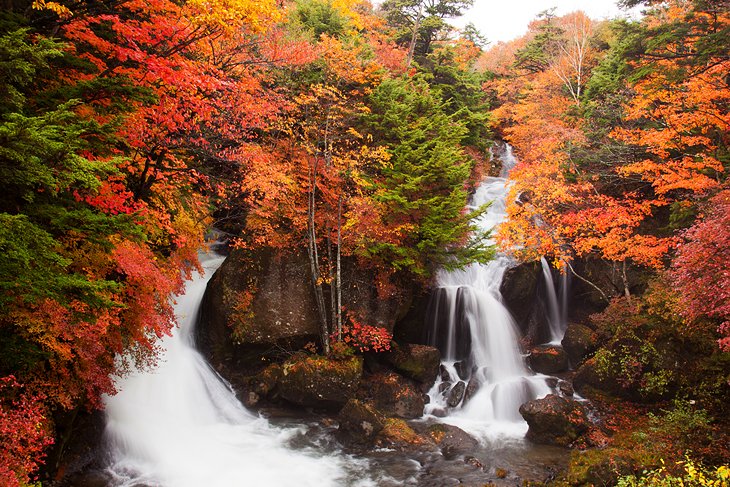 Covering 1,407 square kilometers, Nikkō National Park (Nikkō Kokuritsu Kōen) boasts an abundance of mighty peaks, ancient forests, wide expanses of moorland, lakes, and waterfalls, and is one of the most beautiful and most visited regions in Japan. About 180 kilometers north of Tokyo, Nikkō National Park has a number of popular spas that yield a plentiful supply of hot mineral water and have become favorite resting spots for visitors from far and wide, while those looking for recreational activities such as hiking, camping, mountain climbing, boating, fishing, skiing, and skating are also well accommodated. Highlights include the 2,578-meter-high Mount Okushirane with its beautiful waterfalls accessible by clearly marked hiking trails. The park also has many historic temples, most notably the Nikkō Tōshō-gū complex consisting of 22 buildings, each lavishly decorated, and Rinnō-ji, a temple founded in AD 848.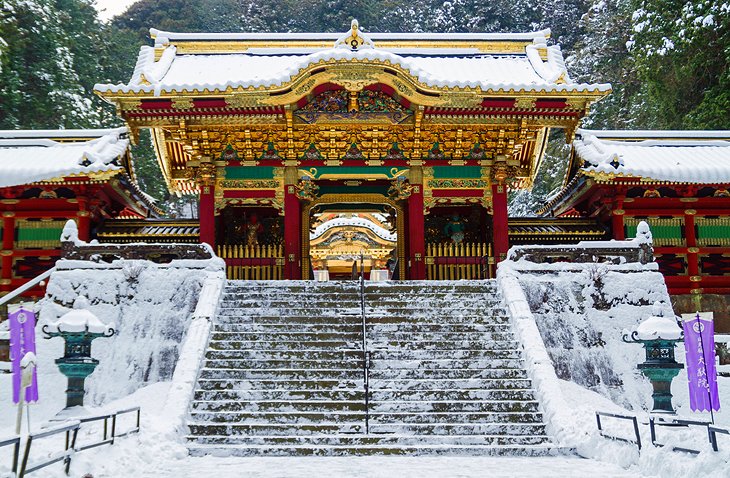 In Nikkō National Park, the splendid Nikkō Tōshō-gū Temple - a UNESCO World Heritage Site and a member of the historic Shrines and Temples of Nikkō - is well worth making the two or more hour trip from Tokyo to see. Consisting of 22 buildings erected in the 17th century at a time when architecture and applied art had reached a peak of achievement, this magnificent site was constructed by more than 15,000 craftsmen brought in from across Japan. Highlights include the Staircase of the Thousand (Sennin-ishidan), the farthest point to which ordinary people were formerly admitted, and beyond this an eight-and-a-half-meter-high granite torii with an inscription in the name of Emperor Go-Mizunoo, and a lovely five-story pagoda. Also of note is the courtyard with its three sacred storehouses and stables, including a relief on the gable depicting an elephant (unusual for Japan), as well as carved monkeys ("See no evil, hear no evil, speak no evil"), sacred fountains, and many fine sculptures.
5 Shinjuku Gyoen National Garden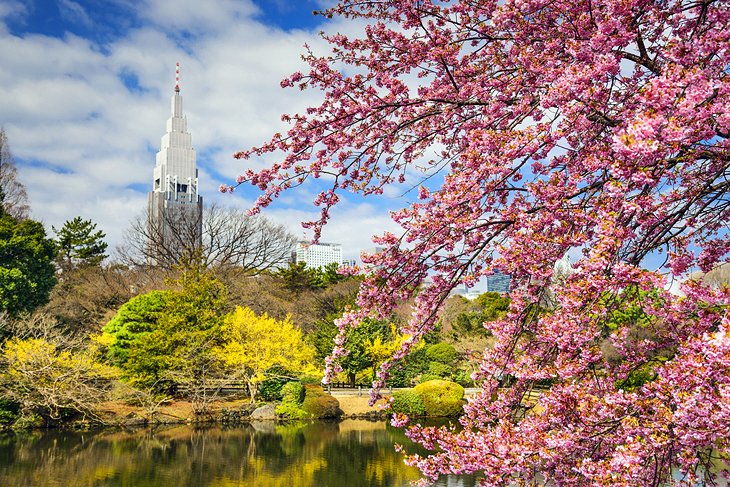 Shinjuku forms the western outskirts of Tokyo and makes for a fun day trip from the city's bustling downtown core (it's an easy 10-kilometer trip by subway). In addition to its vibrant shopping and entertainment districts, Shinjuku is popular for its lovely Shinjuku Gyoen National Garden, a five-minute walk from the train station and famous for its splendid Japanese garden design. Once the private gardens of the wealthy Naito family, this 145-acre park fell into the possession of the Imperial household towards the end of the 19th century before transferring to the state after WWII. Also a botanical garden, it boasts a variety of plant specimens from around the world, dividing them into European and Japanese sections. The models for the European section were French parks and English landscaped gardens, while the Japanese section, with its pretty Chinese pavilion, attracts crowds in April when its 1,100 cherry trees comprising 34 different varieties blossom. Those who prefer chrysanthemums wait for November when chrysanthemum shows are held in the park, along with the splendid fall colors.
Address: 11 Naitomachi, Shinjuku, Tokyo 160-0014
One of Disney's newest theme parks, the 176-acre Tokyo DisneySea opened in 2001 and draws up to 14 million visitors annually, making it one of the country's most popular attractions. With a focus on nautical themes, the park is particularly popular among adults and older teens for its faster, sometimes scarier rides (those traveling with younger children are better served by visiting Tokyo Disneyland). Highlights include the excellent Mediterranean Harbor built to look like an Italian coastal city complete with gondolas; the American area with a section resembling Cape Cod and elements of New York Harbor; and the fascinating Mysterious Island with its volcano and fortress right out of a Jules Verne novel.
Address: 1-13 Maihama, Urayasu, Chiba Prefecture 279-0031
7 The Seaside Town of Atami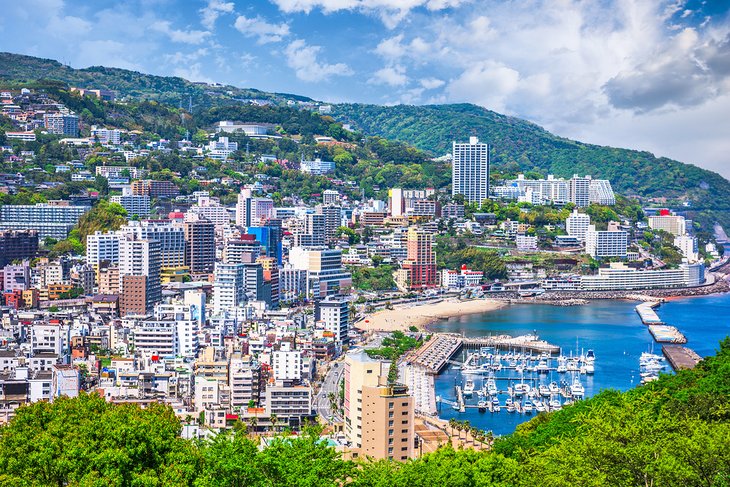 About 100 kilometers southwest of Tokyo and under an hour's journey by train, the small seaside town of Atami is a popular vacation destination among locals and makes for an excellent excursion for tourists. Idyllically perched on the mountain slopes surrounding Atami Bay, this peaceful coastal town boasts an excellent beach with a pleasant boardwalk, as well as the notable MOA Art Museum. The museum sits on a hilltop overlooking the town and boasts beautiful views over the sea. Its collection includes more than 3,500 works highlighting East Asian art as well as paintings by Rembrandt and Monet, and sculptures by Moore. Another notable display is a reconstruction of the Golden Tearoom used by famed military commander Toyotomi Hideyoshi for tea ceremonies in the 16th century.
8 Fashion Central: Trendy Harajuku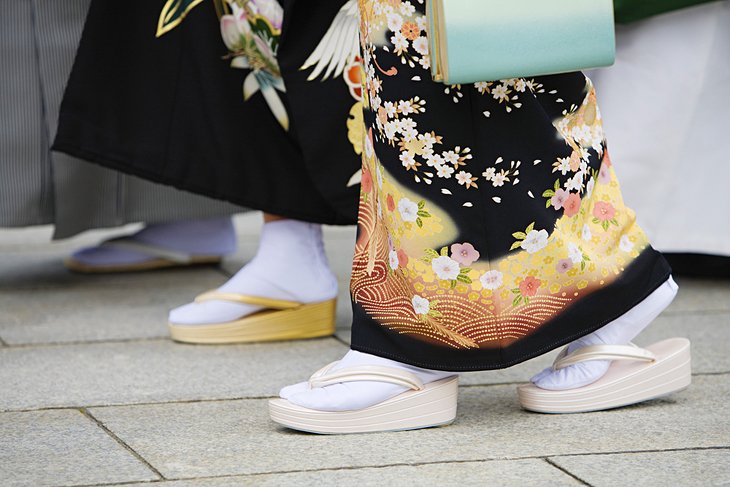 A popular outing for those who follow fashion - particularly over-the-top fashions favored by trendsetters and rebellious kids - is a visit to the Harajuku area of Tokyo's Shibuya district. Just a half-hour subway ride from downtown Tokyo, Harajuku is famous for its fashion boutiques and the often-outlandish outfits on display. If possible, the best day to visit is Sunday when youngsters (and some oldsters) from across the city descend upon Harajuku's streets and parks dressed as everything from Teddy Boys and Rockers to their favorite anime cartoon characters. It's a delightful and colorful experience that provides no end of fun for participants and onlookers alike. Afterwards, spend a little time enjoying the many fine historic buildings found here, including the famousMeiji and Togo Shrines where you'll see plenty of locals dressed in more traditional outfits.
Just 50 kilometers southwest of Tokyo and easily accessible by rail, the pleasant city of Kamakura has a long, rich history and makes for an excellent day trip for those seeking a little slower pace. Much of the architecture stems from its roots as a hometown of one of the country's first Shogunate governments in the early 12th century and the adherence of the locals to Buddhism soon after, an influence that can still be seen in many of the city's temples. A highlight of a spring visit are the city's many cherry blossoms, while in summer it's all about the beach and shopping along Komachi Dori, a street popular for its shops and restaurants. Of its many temples, the most famous is the Buddhist temple ofKotokuin, renowned for its Great Buddha, a massive outdoor bronze statue that dates from 1252. The city is also famous for its seven "passes," or entrances, which for centuries were the only way into the city due to its natural fortress-like hill setting; these can now be explored on foot and make for a delightful walk.
10 Japan Railway Journeys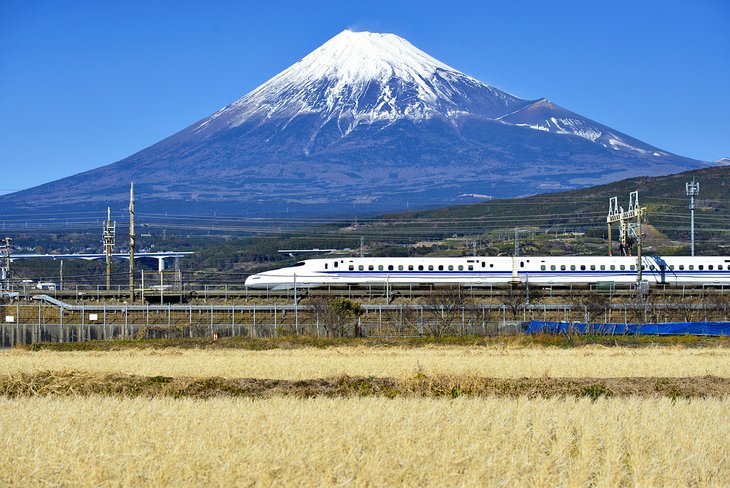 While it might seem a little ironic that Japan, the world's leading automobile manufacturer, also possesses the world's fastest and most-efficient public railway system, it's just one of the many contradictions that makes this country so interesting. The state system, Japan Railways, boasts a network of 21,000 kilometers connecting even the remotest parts of the country with major urban cities like Tokyo. Particularly notable are the high-speed trunk lines along which the famous Shinkansen Bullet Train whizzes along at speeds of up to 320 kilometers per hour, shrinking once formidable journeys from Tokyo to cities like Fukuoka some 1,170 kilometers away to under seven hours. For day trippers, this remarkable network makes trips to cities such asNagoya a less than two-hour excursion, not much longer than it takes to enjoy one of the country's famous Bento on-board meals (it also takes you past Mount Fuji, a highlight of any visit to Japan). Hot tip: If planning to travel by rail in Japan, you can save money by picking up a Japan Rail Pass prior to your arrival (visit their website for details and costs).